Day 13, a Fictional Book (a day late!)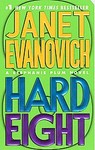 I made it this far. I don't even remember what part of the book. I really enjoyed reading the Stephanie Plum series. It's been almost 3 years since I have touched this book, other than to pack it up for a move or maybe this is in my car....Hmmm....either way it is my goal to get caught up on these books. I think it's all the way to 16 now! I gotta get moving.
Anyone else have a series they love reading?.
I really like the Shopaholic series too by Sophie Kinsella